Van Persie snubs new deal, Tottenham close in on Llorente and Cavani edging closer to Man City.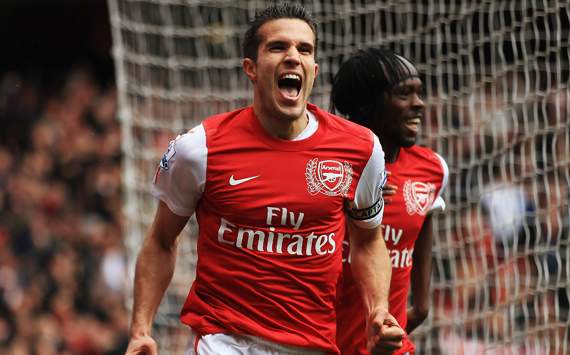 According to Sky Sports News, Robin Van Persie has announced he will not be extending his contract with Arsenal FC.
Robin Van Persie has been linked with a move away to several clubs over the last few season and it seems he will now look at offers from other clubs. Arsenal manager Arsne Wenger has made it publicly clear after loosing Fabergas to Barcelona last summer, that he will try to retain Robin Van Persie at the Emirates. Whilst Van Persie has stated he intends to leave the club, it is unclear whether Arsenal will be willing to accept an offer or try to change the mind of the Dutch International.
Robin Van Persie's official website read:
"I've thought long and hard about it, but I have decided not to extend my contract. You guys, the fans, have of course the right to disagree with my view and decision and I will always respect your opinions.

I personally have had a great season but my goal has been to win trophies with the team and to bring the club back to its glory days.

Out of my huge respect for Mr Wenger, the players and the fans I don't want to go into any details, but unfortunately in this meeting it has again become clear to me that we in many aspects disagree on the way Arsenal FC should move forward."
Arsenal have already purchased Lukas Podolski and Olivier Giroud, which would suggest that the club have been preparing for the departure of 28-year-old Van Persie.
Having finished last seasons campaign with 30 goals for his club, Arsenal will need to find a way to replace Van Persie if Podolski and Giroud don't live up to the expectations. No matter where the Arsenal captain heads to fans of the club with no doubt feel distraught at the news.
Fernando, no not Torres, Llorente
The 27-year-old is no stranger to English clubs and made a big impression on United's defence last season with his goals in the Europa League tie that helped dump United out.
Tottenham, Arsenal, Manchester City and Liverpool are all admirers but his price tag has been prohibitive for his age with £30m the clause release figure.
He has one year left on contract and business sense tells clubs to negotiate but that's not easy with a club such as Athletic especially when you are dealing with one of their icons.
He is keen to come to England though and that will encourage clubs. United need to sell Dimitar Berbatov first and are waiting for offers to be firmed up.
(source)
Cavani
Uruguayan seemingly open to Etihad Stadium switch.
 Manchester City have been boosted in their pursuit of Napoli hit-man Edinson Cavani.
Last week the Italian side's sporting director Riccardo Bigon stated that the Uruguay star is not for sale.
But Cavani himself has hinted that the club would be more open to a transfer than they are letting on.
The 25-year-old believes that Napoli's tough stance could merely be a plot to earn as much as they can from their prize asset.
"This is football, I think the [Napoli] president [Aurelio De Laurentiis] is a little… likes to play with the numbers," he is reported to have told Uruguayan website Subraydo.
"I think that regardless of whether an offer will come in or not, the chance to sit down and talk will come and he will do that calmly.
"He will use his head, he is a very good businessman and it will all be worked out."
Quite why Man City need attacking reinforcements is beyond me but these comments from Uruguayan international Edinson Cavani do not exactly close the door on a move away from Napoli and that may well alert Roberto Mancini into action. The Etihad Stadium side clearly have the money to land the 25 year old and a bid may now be in the offing.
The Naples side lost Ezequiel Lavezzi to PSG in a £20.8m deal yesterday and perhaps this has left Cavani feeling that his Serie A side may not be able to match his ambitions.
Napoli did not qualify for the Champions League for the coming season and that may well play havoc with the club's hopes of keeping their star performers this summer.
If Mancini is to bring in another forward then perhaps moves are afoot to sell either Carlos Tevez or Edin Dzeko? It would be unlikely that the Italian would consider for one second selling Sergio Aguero or Mario Balotelli this summer.
(source)